The Monitor: 27 inches Asus VK278Q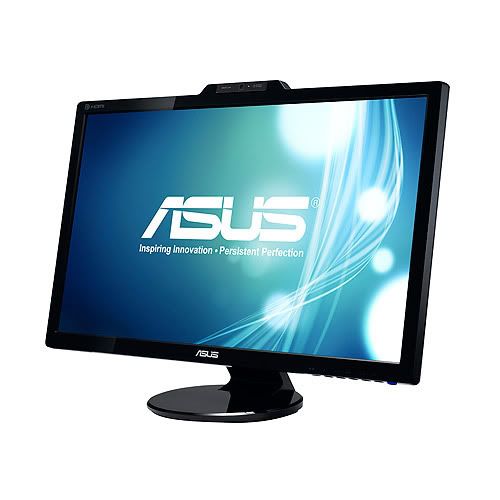 http://uk.asus.com/Display/LCD_Monitors/VK278Q/
I decided I would go for the big picture with a 27 inches screen. I previously was on a 22 inches.
Note that the resolution of most 27 inches screen is not higher than the one of top 24 inches. In this case it's 1920x1080 (16:9 ratio) but, definitely, to my taste, it's more comfortable especially for reading as the characters are genuinely bigger (and you can easily set them even a bit bigger in Win 7).
So, why did I pick this one?
I'm used to high quality screens for work, such as overpriced Eizo and Barco (Barco has nothing to do with normal monitors). At home, I wanted a very good all-purpose screen and this is the issue everyone encounters due to current technologies!
Currently, LCD panels come in various technologies and none of these technologies is "perfect" for everything. Mostly, "TN" panels have theoretically better response speeds (fast video games, and, to some degree, fast videos in general) while "IPS" panels offer theoretically a better image quality and viewing angles but slower speed. Thanks God, even if it's still true, all panels improved a lot and the best TN ones can now offer very nice all-purpose solutions. It's the result that counts, period.
First I was interested in an Iiyama (yes there are two "i" at the beginning) 27 inches ProLite B2712HDS-B1. Reasonably priced, coming with an adjustable stand, made by a manufacturer that had a good reputation (I had several CRT Iiyama monitors and they were nice). What discouraged me was the lack of clear statement regarding dead pixels policy: Iiyama says they will replace a screen if it has "many" dead pixels... how many is "many"?! And what about only one dead bright pixel but very visible? (Of course, some rules and regulations also apply but they are a bit vague.) The links to the documents supposed to supply information didn't work. A form on the web site to send messages didn't work. I emailed twice them and got no answer. Last thing, they are supposed to offer one extra warranty year if you register when you buy the screen... but the form didn't exist and they say to email them instead... enough already. The screen is maybe excellent but I didn't feel like going any further; maybe in your own countries, it will be different.
So I wandered a bit. I couldn't get enough information about 27 inches by Viewsonic which is normally a good brand. I was pondering about a Samsung when I found the Asus...
... well my 22 inches screen is an Asus. When I got it, to replace a Belinea 19" LCD in emergency, I posted on our forums that I was not totally happy: luminosity was not homogenous enough to my taste and also the buttons for settings were difficult to find, inside an aluminum-like bar with almost invisible labels above them, which is somewhat an issue when each button got several functions depending on what you already pressed. After years with it, I have to admit that the homogeneity never posed real issues (I was just used to professional screens, I guess) and the monitor proved to be perfectly reliable and performing well. So I decided to have a -cautious- look at the Asus 27 inches...
What made me look at the Asus was also that, at work, we discovered recently a new 24" Asus, the PA246Q, aimed at the professional market but way cheaper than usual products. And, after many tests, the PA246Q proved to be pretty close to an entry-level Eizo for like 1/3 of the price. (498 euros vs 1300 euros or so). I thought that this was maybe a good sign about quality philosophy for the top lines from Asus. (Note that the PA246Q, with its IPS panel, would be IMHO, a bit slow for fast games.)
So I looked at the Asus VK/VE 278Q and finally, well, I guess, the word is ... bingo! At least for the monitor I got.
How it performs
First, let's say that VE and VK have the same panel (theoretically) and are the same screens, except that the VK offers a 2 Megapixels webcam incorporated in the screen frame (slightly twistable up and down). I got a VK because the VE was sold out. (And I immediately disconnected the webcam.)
It uses LED back-lighting. You may thing this means there is a big matrix of LED's behind the panel but no. LED's are on the edges. This is why LED monitors are not necessarily better than traditional back-lighting monitors. In this case, though, it's fine.
The screen came with zero dead pixel and it's just plug and play. Just connect it, all fine.
Except that, as almost every screen, it's much too bright when you get it, and you have to seriously lower the brightness. (On the 0-100 scale of the setting, I set it to 43ish.) The factory settings is around 300 candelas brightness which is insane unless you plan on using the screen under California summer sunlight. Screens for professional use are set around 120-130 candelas.
Color balance is surprisingly good, as well and contrast and gamma, without setting or tweaking anything, at least on the screen I got. It's really unusual for a product that is not supposed to be a professional equipment. The drawback is that, despite of many possible settings covering a wide range of possibilities, if you are in search for the "perfect image", you won't do much better unless you can use a color measurement device and can create a color profile a (but TBH, on my screen at least, you don't really need to).
Using a X-rite (
http://www.xrite.com
) measurement device from work, I could measure a real contrast of 1:980 which is excellent (a Barco doesn't do much better on this specific point). The values advertised for contrast like :10000 or even 1:100000 are jokes implying the back-lighting of the panel varies globally to reach those values, which doesn't make much sense if there are very different zones on the image, like for example a relatively dark room with a window open on a springtime landscape. The average values for modern LCD monitors are around 1:850.
I measured color fidelity too, with the DeltaE94 method (difference between the color "sent" by the graphic card and the one actually displayed. Details on
http://white.stanford.edu/manuals/ISET/ ... taE94.html
and
http://en.wikipedia.org/wiki/Color_difference
). A DeltaE94 below 7 for a given color is considered acceptable. A DeltaE94 below 3 is considered almost perfect, at least visually for everyday use. Without any setting, the Asus VK278Q screen offered a DeltaE94 around or below 3 for almost all colors, with an exception for bright green which reaches 6ish. A few colors were above 3 but, except the bright green at 6ish, all were still under 4 DeltaE94 . This is just very nice. With calibration, everything is at 2 or under 2, with two exceptions: dark blue and bright green at 2.8-3ish, bright green's DeltaE94 being a bit higher than dark blue's. Just excellent. I didn't expect that at all. I just hope all the monitors are similar to mine!
As far as I can measure response time (the time for the monitor to fully erase an image), I measured roughly 7ms (5-6 on a bright background, 7-8 on a dark one). Nevertheless I can't make very accurate measurements so it's -/+ 1ms or so. I tested AO and the Dreamworld engine (AoC, TSW) like this, and there is no issue at all I think. On faster games, you could use the menu and set the "Trace Free" value to something between "not much" and 40ish. In which case, the screen will behave like a 2ms screen it seems (a rare value actually, except for marketing departments). Above 40ish, you get reverse ghosting though.
The evenness of the screen is fine for a non-professional monitor, even on a uniform background.
The screen offers 5 color modes (including the sRGB mode, the theoretical standard for development
http://en.wikipedia.org/wiki/SRGB
.), each one being customizable (some modes don't offer full customization though, for technical reasons). Switching modes is performed by the on-screen menu or directly by buttons under the screen edge. On the other hand, you can't create another color mode from nothing. Each mode can be reset to default settings.
Many functions are available, including a Picture in Picture function, several input standards too.
I described here, answering a question from Hyde, the way to switch sources
viewtopic.php?p=51905#p51905
.
Watching movies is OK, although a high quality TV set will be better. The screen (and I guess no computer screen ATM) doesn't offer sophisticated scaling functions from SD to High definition, so you'll have to do that on the video card for best results.
Last thing, the buttons are much easier to find and operate than on my old Asus screen. Still I dislike multifunction buttons... but all screens are like that.
Now two drawbacks
The monitor stand is a shame: almost no movement is allowed and you can't set the height at all. Come on... this is not a cheap monitor! It's acceptable but nothing more. As for myself, for specific reasons, I anyhow have to use a mount arm, so the problem is solved... except such arms are expensive and not necessarily pretty.
http://www.ergotron.com/Products/tabid/ ... fault.aspx
The global look and shiny plastic finish are very standard, although well done. You may dislike that a bit but you can also try to see the bright side and assume Asus put most of the money into display quality.
Bottom line:
So, I can say I'm really happy with that screen. It goes beyond my expectations. I pray for all the screens in this series to be like mine. It's a very nice monitor.