This is my GUI.
There are many like it but this one is mine.
I use Notum Dovvetech as a skin, but it doesn't really change how the layout is, in fact, I used this layout before going to the skin.
Its busy ... I would love a higher resolution to spread things out (I use 1400x1050 on my laptop, but my PC LCD is 1280x1024). But I can see and use pretty much anything I need to quickly. It really saves my butt in PvP, soloing, and when dual-logged.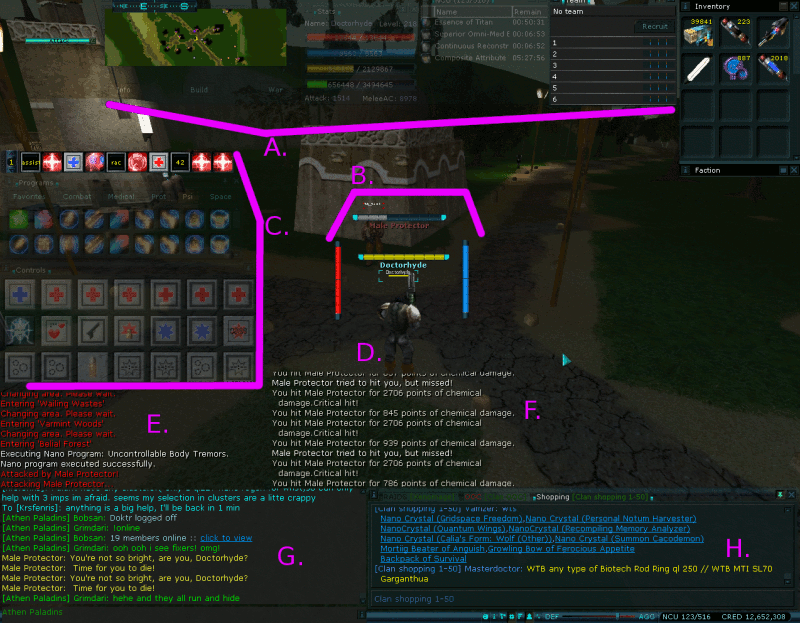 A. Mini-map, Stats, NCU and Team windows ... all except Team are set to auto-fade ... also my compass. Works like a HUD and I'm used to scanning "through" them.
B. My health, nano, fighting target and nano target bars all in the center.
C. Quickbar, Nano programs and Perks ... this section also set to auto-fade. This are can be turned off most of the time since I have so many macros setup now.
D. You can't see it in this shot, but I keep a blank chat window here that is partially transparent. It covers the entire area from the text window below it to the fighting target bars. Reason is I find that some nano effects are SO bright, especially on a LCD, that it hurts my eyes. This allows me to deaden the glare without losing picture.
E. System information mostly, a couple other channels, so that I can see when (for instance) UBT landed even after some combat scrolling. This chat window has input turned off and has click-through enabled.
F. Combat information like hits, misses and damage. This chat window has input turned off and has click-through enabled. Messages in this window are set to time-out so that when I'm not in combat, I have more space to see.
G. Main chat window. Orgchat, tells, team and vicinity go here. Sometimes I move tells to a spare window when I'm AFK for a long time.
H. "Extra" chat window with tabs. I turn off this window completely when I don't want to see one of the tabs. I put Raids in a tab in this window along with OOC, Shopping, and some others. Its usually not visible.