Steps of Madness – the nightmare continues
Neleb the Deranged sits in his cave, oblivious of the world outside and lost in the dark pits of his insanity. On the outside, a handful of people have long been convinced that Neleb is not a deranged mind with delusions of grandeur, but rather a misunderstood visionary. One of these people is more than happy to talk to people and will even supply quick and easy transport to the cave itself…if you dare venture inside that is!
Steps of Madness, which was the first dungeon added to Anarchy Online back in 2001, is not going to be quite as you remember it! Recently, nostalgia got hold of us and we decided to give it a small facelift. Targeted for levels 30-60, Steps of Madness now has modified monsters (yes, before you ask, we have taken them off their insane diets and their hit points should be a bit more manageable now!), new and improved loot and some revised items and drop rates. We hope that both new and old players alike will find their way to this curious place where sanity balances on an edge.
The Escaped Prisoners
Quite recently, the prisons in Newland, Omni-Trade and West Athen accepted prisoners from the priests of Home. There were several things out of the ordinary about these inmates and now, to everyone's horror, they have managed to escape!
This is a major crisis for the penitentiaries on Rubi-Ka, and they could use all the help they can get in catching these prisoners again. High level players should seek out the prison wardens if they might be willing to help track down some of these dangerous foes and maybe earn themselves a bounty or two along the way. Some of the tools they used to escape might just have uses in the outside world as well!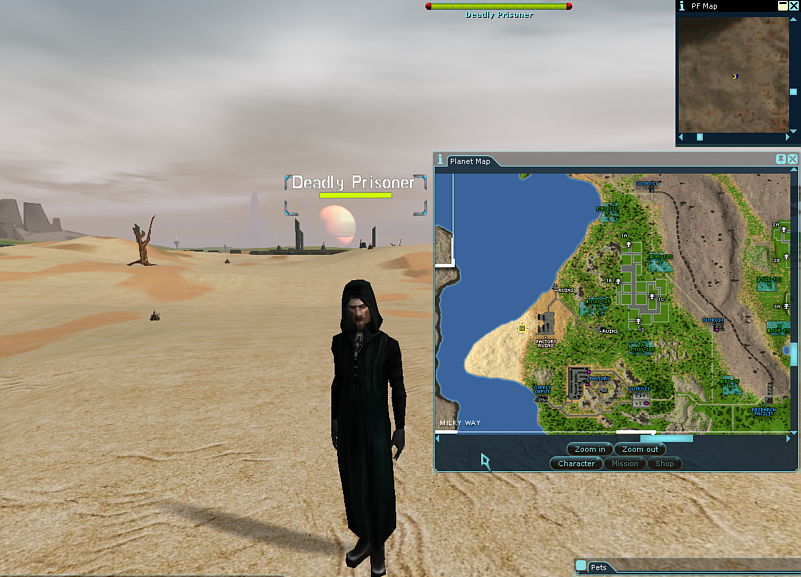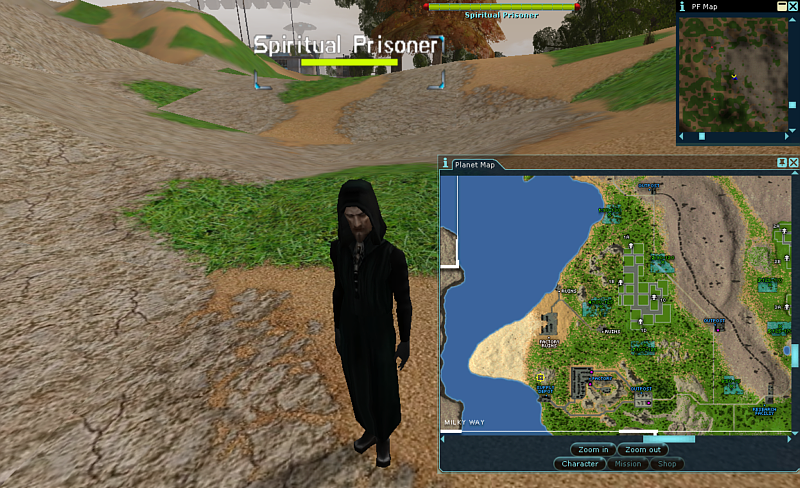 Coordinates of the Prisoners

All these coordinates are in MILKY WAY (there was plenty of room there to place bosses)

Poisonous prisoner 2352.7, 2199.8
Acidic prisoner 1462, 1716
Umbral prisoner 4952, 812
Murderous prisoner 1884.3, 1882.8
Temporal prisoner 3148, 2122
Dangerous prisoner 4566, 370
Diseased prisoner 3625, 580
Spiritual prisoner 879, 629
Silenced prisoner 2916, 298
Burning prisoner 377, 707
Deadly prisoner 767, 1026
Tarasque Additions
A new encounter has been added in Camelot Castle. The creator of the great cyborg dragon has begun to tire of having his creation destroyed on a regular basis and has decided to intervene when he next detects that his creation has been slain, so those who challenge the dragon had best be on their toes.
He also holds the key to upgrading some the dragon's most prized assets so some might feel the risk of conflict is worth it.
Dust Brigade – Locating the threat
It is no secret that the Dust Brigade is interested in Xan technology, but this knowledge has spawned more questions than answers. Why are they searching for it? Where is their base? Who directs them? What are they planning?
The ICC intends to find out at least one of these answers, and may accept help from those who have shown their reliability before.
New Vendors
The summer brings with some new fashion trends! Some classic summer threads can now be found from new fashion vendors in Tir, Omni-Ent and Newland City.
Tattoos have also been popular on Rubi-Ka for a long time, and slowly, but surely, an industry has flourished. It's here to stay! A new tattoo artist has been spotted near Reets Retreat, selling both old and new designs to those interested in body art.
Other content and updates
Of course there will also be the usual selection of tweaks, changes and improvements in this update including some of the following:
Shade Changes
- Changes to the Shade Perk actions now mean that the Shade no longer needs to be behind their target for attacks after the chain has started.
- Changes to the way Shade perk chains work. The perks will be changed to now check against the user rather than the target if they have recently activated the previous step in the chain. This means that shades will be able to carry chains forward from one target to another.
Battlestation Improvements
- Resolved several issues on the battle stations. Players should no longer get warped back by the decontamination buff, should no longer get the deserter flag when ending the round in the decontamination room, and neutral players should now be able to be buffed correctly by their chosen side.
General Improvements
- Loot channels will now report when a player deletes an item from a corpse as well as when they loot an item.
- New /rp command for roleplayers. This command will add visible characters to your name tag so that other players can see that you are currently 'in character'
- Reduced the spawn times on many of the older Rubi-Ka unique mobs
- Reduced the spawn times of the boss mobs in the new player starting area.